A wood win­dow with alu­minium cladding com­bines the beauty and warmth of wood with the mod­ern design, colour and dura­bil­ity of aluminium.
The alu­minium pro­file mounted to the out­side of the win­dow frame makes it pos­si­ble to extend the life of the win­dow. Wood win­dows with alu­minium cladding from Wik­tor­czyk can be man­u­fac­tured in both the 68 mm ver­sion and the energy-​saving 78 mm and 92 mm versions.
Such a design means that our wood win­dows with alu­minium cladding do not require any addi­tional spe­cial main­te­nance because the cladding pro­tects the wood­work against adverse weather conditions.
We use alu­minium cladding from GUT­MANN, EFFEC­TOR or ALURON. The cladding is fixed to the win­dow frame by means of spe­cial hooks, which allows air access and ven­ti­la­tion of the wooden sur­face through an appro­pri­ate gap.
The com­bi­na­tion of wood and alu­minium makes it pos­si­ble to have a warm and aes­thetic inte­rior that stems from using wood win­dows, while at the same time pre­sent­ing a mod­ern appear­ance for the build­ing on the out­side that results from using aluminium.
Alu­minium cladding is avail­able in a wide range of colours, as per the RAL palette. The cladding can also be given an imi­ta­tion wood finish.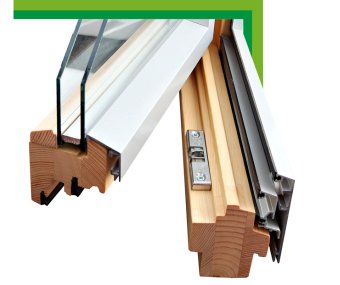 See also: Win­dows profiles