Lon­don han­dle from Hoppe is, as stan­dard, for our exte­rior doors, equipped with an anti-​drilling escutcheon plate. This is a steel rein­force­ment of the escutcheon ele­ment that makes bur­glary attempts more dif­fi­cult. The fact that there are no fix­ing ele­ments on the out­side is a very impor­tant fac­tor in mak­ing bur­glary attempts harder. A poten­tial bur­glar has restricted access to the lock insert.
Mount­ing the lock insert as flush as pos­si­ble with the escutcheon plate is also a very impor­tant fac­tor in terms of secu­rity. It makes it impos­si­ble to remove the insert from the out­side and makes any attempts at drilling through it more difficult.
As stan­dard we offer han­dles on both sides or a han­dle from inside and a fixed knob from the out­side at no addi­tional charges. The sec­ond vari­ant is only for well-​organised peo­ple who do not for­get their keys, leav­ing home. If the doors are locked, the only option is to break into your own home.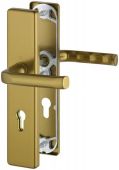 Fot. Golden Handle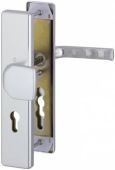 Fot. Sil­ver Knob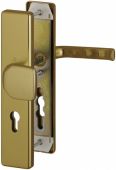 Fot. Golden Knob