The paint coats that cover wooden win­dows and doors should be renewed within a reg­u­lar sched­ule. The inter­val between sub­se­quent ren­o­va­tions depends on gen­eral con­di­tion of the build­ing and weather fac­tors that affect the pro­tec­tive coat­ing. Depend­ing on actual wear we rec­om­mend to renew the cov­er­ing coats once per 4 to 5 years whilst the stain paint coat­ing should be refreshed once per 2 to 3 years.
The ren­o­va­tion is to be car­ried out with use of top class paint­ing prod­ucts from Sikkens men­tioned below. They are all envi­ron­men­tal friendly, water sol­u­ble or solvent-​based products.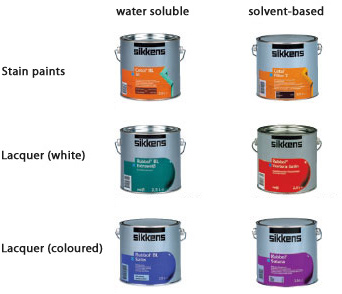 The ren­o­va­tion pro­ce­dure is extremely easy:
Clean the old coat­ing and pol­ish it slightly. For pol­ish­ing use the abra­sive paper (with gran­u­lar­ity from

200

to

220

) or the abra­sive cloth (Scotch-​Brite).
Pol­ished and free of dust sur­face should be coated with appro­pri­ate prod­uct from Sikkens of the desired colour and type.
Con­tact us, doradz­imy Ci jak dbać o swoje drzwi i okna drewniane.