Stan­dard insu­lated glass
Insu­lated glass panes con­sist of one pane of glass with a ther­mal insu­la­tion layer and a sec­ond one made of float­glass. The space between them is filled with argon.
Low-​emissivity glass increases the tem­per­a­ture of the inte­rior pane, which means that even at low out­side tem­per­a­tures the room is warm.
Stan­dard insu­lated glass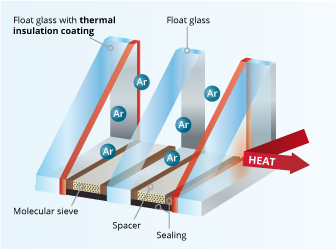 The most widely used set of dou­ble insu­lated glass con­sists of three 4 mm panes and two SWIS­S­PEACER 12 mm and 10 mm warm spac­ers, with the cham­bers between panes filled with argon. The ther­mal trans­mit­tance fac­tor of such a set is 0.8 W/​m2K and this set is used as stan­dard in THER­MO­LINE 78 mm windows.
In THER­MO­LINE 90 mm win­dows we use as stan­dard a set of three 4mm panes with two SWIS­S­PEACER 16mm and 18mm warm spac­ers, which results in a trans­mit­tance of 0.6 W/​m2K for the whole set.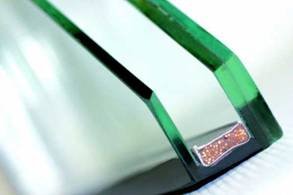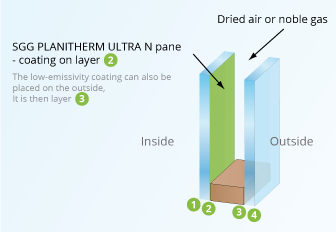 See: 68 mm windows